Until now, Marvel's littlest Avenger has been a reliable resource of smaller-scale larks amid the MCU's gustier arcs. While Ant-Man (2015) offered a frisky palate-cleanser between the city-wrecking rucks of Avengers: Age of Ultron and Captain America: Civil War, Ant-Man and the Wasp (2018) soothed with juice-box quips after Avengers: Infinity War's flaky finale. Which begs the question: can the mini-marvel shoulder the load of larger MCU responsibilities? 
The answer is a guarded 'yes' on the strength of Quantumania, give or take a few wobbles on the MCU dividing line between standalone fun and expanded universe-building. If Ant-Man's growth curve gets choppy as he's mobilised to launch Phase 5 and steer the MCU into newly expansive realms, his footsteps still land louder than ever: which they need to, given the fresh threat he's required to face. 
In the MCU's latest instalment of post-Blip fallout, Scott Lang (Paul Rudd) is busy soaking up his fame when we meet him here. Besides launching his memoir, he poses for selfies with strangers' dogs and laps up free coffees, even if his barista mistakes him for the Avengers' other bug-man. But Lang has bigger crises than the critter competition. Struggling emotionally with her father's Blip-years absence, and frustrated with his seeming retreat from hero duties, Cassie (Kathryn Newton) has taken to staging climate and recession protests. And ending up in jail. 
When Scott and Janet van Dyne (Michelle Pfeiffer) realise Cassie has also been investigating – inspired by Hank Pym (Michael Douglas) – the Quantum Realm, they're impressed and horrified. And doubly horrified when an accident sucks both families (Evangeline Lilly's Hope included) into the subatomic world, realm of many uncertainties. How do they get home? Must they drink the ooze? And, crucially, what's up with all-conquering despot Kang (Jonathan Majors)? 
Writer Jeff Loveness (Rick And Morty) and returning director Peyton Reed posit a scenario familiar from classic pulp sci-fi stories here. Torn between joining the uprising against Kang or focusing their energies on saving themselves, our outsiders become involved when the options converge. 
For a while, the film offers more distractions than direction, drunk on the glowing CGI potential of a strange world outside time and space. On top of a few visual homages to a certain cantina scene, there are blobby creatures emitting gloop that works as a translator when you guzzle it. Meanwhile, buildings have legs, spaceships resemble jelly… 
The terrifically imagined results offer the MCU's most tripped-out sci-fi material yet, even alongside the Guardians of the Galaxy movies. But one scene involving Hank pinpoints an attention-deficit problem. One minute he's talking about how the Quantum Realm changes everything, science-wise; the next, he's all, "Holy shit, that guy looks like broccoli!" Elsewhere, up pops Bill Murray, whose cameo includes drinking a squid. Between the manifold diversions and the dangers of CG fatigue, Quantumania struggles to secure its narrative footing.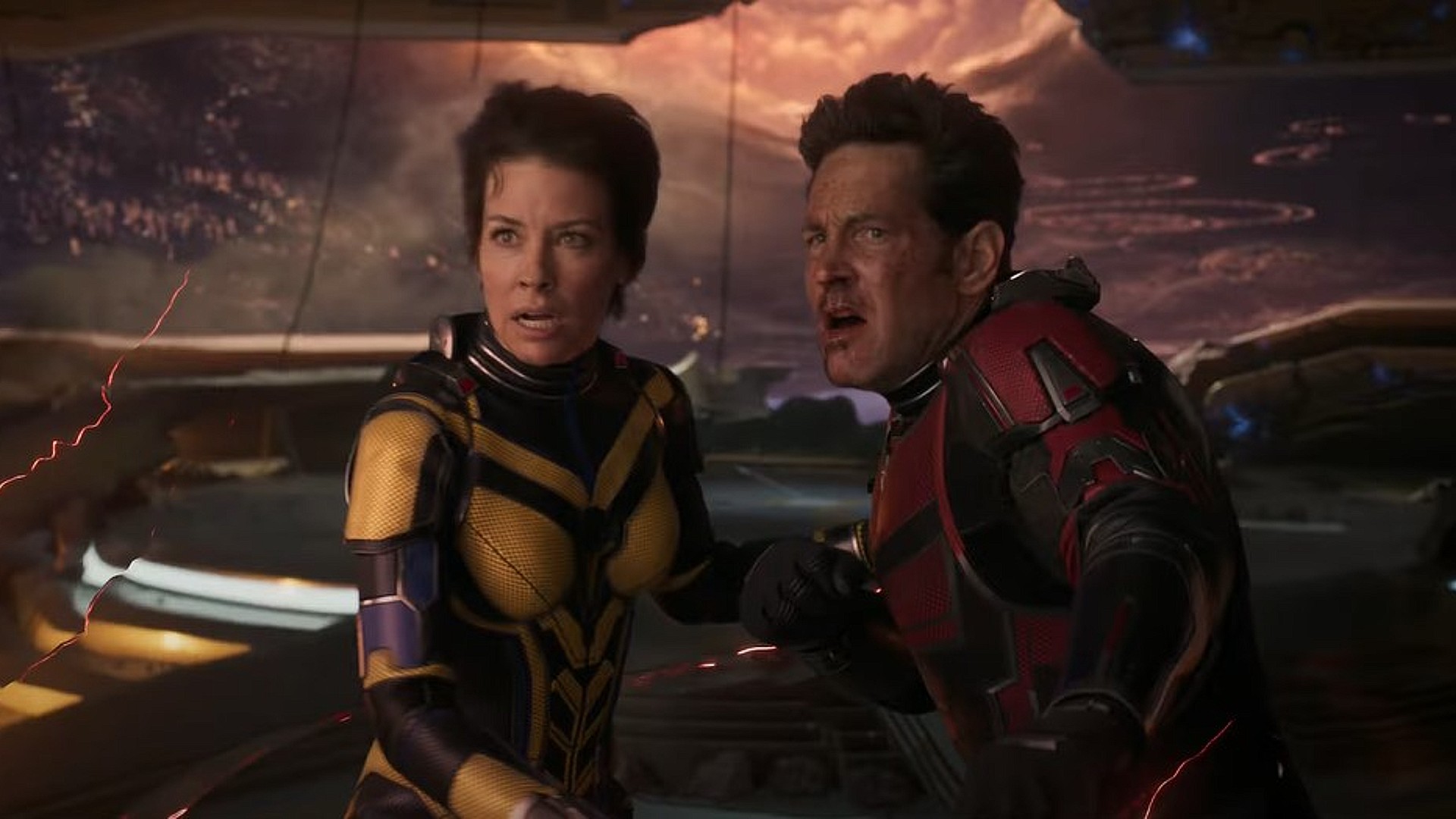 Gradually, though, the story finds its stride and stamps boot-marks on the MCU's future. No, not because of floaty death-bot MODOK (no casting spoilers, just in case), who's more fun than fearsome with his Deadpool 2-ish "baby legs". Given time to make his presence felt, Kang begins as a seductive figure until a charged exchange with Janet – Pfeiffer is well-deployed – reveals just what a deadly proposition he will be. 
If the MCU's Multiverse spaghetti runs the risk of seeming abstract or convoluted, Majors is a mighty solution. Even when he's doling out befuddling chat about timelines and temporality, Majors' precise delivery makes clipped, authoritative work of quantum-based confusions. "I'm a man who likes to be understood," he says, which might be music to the ears of audiences who like to understand what they're watching without Wikipedia's help. And when he's not all wound up in time-based shenanigans, his presence and physicality prove imposing, whether he's slamming down Bane-grade fists of fury on opponents or levelling murderous threats at teenagers.  
True, Quantumania can feel a little too much like a warm-up for more from Kang, rather than its own standalone stand-off. Landing flatly, the anti-climactic finale suffers as a result. But Reed and Loveness stir up enough soapy family intrigues and peril to bring out our diminutive hero's best. While Rudd summons previously untapped reserves of dramatic clout, he also strikes likeable sparks with Newton, who brings vigour and a quick wit to a character well worth revisiting.  
Will the Multi-family Saga follow the Multiverse Saga? With the kids of Hulk, Thor, T'Challa, Wanda and others also in the MCU's Young Avengers mix, it's an option. Either way, even as Ant-Man sizes up impressively and Kang makes an outsized entrance proper, Quantumania reminds us there's value in sweating the small stuff. 
---
Ant-Man and the Wasp: Quantumania hits cinemas on February 17.