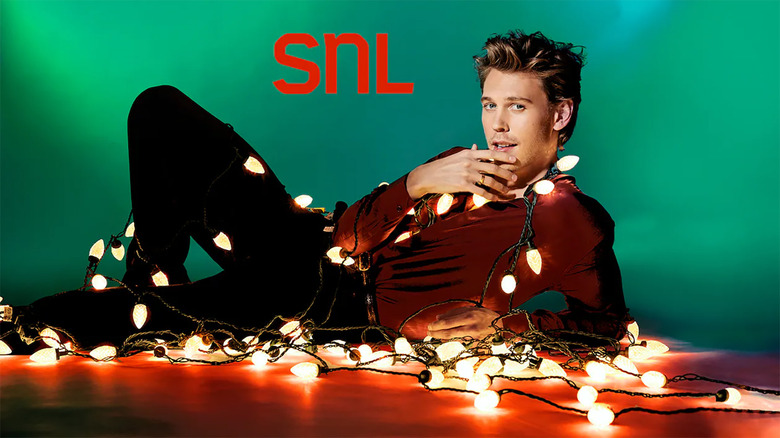 NBC
Every season, the Christmas episode of "Saturday Night Live" packs the late night sketch comedy series with holiday-themed laughs. Typically, there are some big guest stars who pop up just for the hell of it, but due to a big announcement just hours before the episode aired, the show hosted by "Elvis" star Austin Butler became somewhat of a bittersweet affair. "SNL" announced that Cecily Strong would be leaving the series after 11 seasons, and this episode marking the halfway point of the 48th season would be her last. 
As expected, "SNL" allowed Cecily Strong to say goodbye to the sketch comedy series that launched her career, including a proper heartfelt sendoff at the end. Unfortunately, the rest of the episode was rather uneventful and uneven, especially for a Christmas episode. Maybe the cast and crew were a little off their game due to the anticipation of Cecily Strong leaving the show. Maybe they were tired after three episodes in a row. Maybe it was a little bit of both? Either way, there were still some big laughs to be had and plenty of tears to be shed. So let's take a closer look at Austin Butler's episode of "Saturday Night Live."
What was the best sketch of the night?
Please Don't Destroy came back with a vengeance and easily had the best sketch of the night. With a premise that kept getting escalating into more absurd territory, this is one of the best examples of what this comedy troupe does best. Aside from the ludicrously impractical appearance and shortcomings of the plastic clothes, there are also other stellar bits that keep cropping up, including the "fact" that Tim Herlihy is dating musical guest Lizzo, who quietly tells her beau that she's not wearing "planties." Furthermore, what seals the deal is the way that Austin Butler goes from playing things calm, cool, and collected to becoming increasingly more incredulous at the progress of this not-so-sneaky product pitch, right down to his surprising acceptance of such silliness. This was pure Please Don't Destroy chaos, and I loved it.
How was the rest of the episode?
Not far behind Please Don't Destroy was this sketch that took advantage of Austin Butler's presence to use Elvis Presley as the driving force. Well, not exactly. Instead of seeing Austin Butler suit back up as the King of Rock 'n' Roll, he's in drag as an older woman who can't hold back her excitement at seeing Jewish Elvis, played wonderfully by Sarah Sherman. This sketch made me wish Butler got more opportunities like this throughout the night, because the energy that he brought to this character was off the charts. The way Butler and Cecily Strong yelled at Bowen Yang absolutely cracked me up. 
Much of the rest of the night was filled with sketches that had potential to be great, but came up short for one reason or another. For example, this White Elephant gift exchange sketch seemed like it was heading in a great direction before it was given a bafflingly abrupt and stupid conclusion. I'm not sure how this sketch played out in dress rehearsal, but it feels like it was cut unceremoniously short with that Santa Claus tag at the end. Watching Butler's excitement and disappointment about the results of this White Elephant exchange could have easily gone on for a couple more minutes, but then it all came crumbling down. 
Another example of a sketch that had nuggets of greatness was this quasi-commercial for marzipan. There are elements of this that feel strange enough to be a 10-to-1 sketch, especially Bowen Yang's inexplicable screams at the end of the children's line-up. But despite being just a four-minute sketch, it felt like this bit went on for far too long. Though the musical element was impressively done, it wasn't quite funny enough to sustain itself. 
Thankfully, there was only one sketch that felt truly bad, and it should come as no surprise that it was "SNL" attempting to pluck one of the week's political headlines and turn it into a cold open. After successfully having a cold open last week that didn't rely on political headlines, they went back to the well by poking fun at Donald Trump's new ill-timed and ugly NFT collection. No matter how good James Austin Johnson is at playing Donald Trump, the schtick of mocking the diabolical idiot in orange has lost its shine. They tried to save it with one of those meandering topic breakdowns, but I'm sick of that bit too. 
How was Austin Butler as an SNL host?
With Austin Butler's career reaching new heights thanks to his award-worthy performance in "Elvis," hosting "SNL" is a rite of passage for him. But it was also an opportunity for him to show off his comedic range. Though I wish the sketches overall were better, Butler's work as a performer was solid. Occasionally he played things straight, not unlike Adam Driver, but he also knew how to lean into the live comedy setting and really went for laughs. That monologue certainly showed that he had a quiet confidence, and it's always lovely to see when a host lets themselves be vulnerable by getting personal. In this case, Butler's memories of his late mother were a beautiful sentiment, and it made watching him throughout the night that much more satisfying. 
But perhaps the most commendable part of Butler's hosting duties came when he serenaded Cecily Strong with a rendition of "Blue Christmas" brought to life with his "Elvis" voice. He understood the assignment, and brought exactly the right amount of hilarity and sentimentality. Here's to hoping he gets another opportunity to host in the future. 
Cecily Strong gets a beautiful sendoff
With Cecily Strong being rather busy outside of "Saturday Night Live" in recent years, it already felt like this could easily be her last season, but no one expected it to come before the season finale. We're just glad that there was at least enough notice of her exit that she was able to get a proper sendoff.
First, at the Weekend Update desk, Strong appeared as one of her best original characters, the conspiracy theory peddler Cathy Ann. After doing what Cathy Ann does best, including announcing the news that she was going to prison, Strong briefly broke character to express her gratitude for the time she spent on "SNL." With a frog in her throat and tears in her eyes, she thanked everyone for everything that came with spending over a decade on the series, and mentioned that brief time she spent as a Weekend Update anchor alongside Colin Jost. But that wasn't all. 
Much like when Kristen Wiig left the series, Strong was given her own musical sendoff that began under the guise of a sketch set at a RadioShack and culminated with Austin Butler singing as Elvis Presley on the main stage, where Strong eventually joined in the song along with the rest of the cast. It was heartwarming and wonderful, and you can see Strong's feelings all over her face. 
On a side note, did anyone else thinks Colin Jost was uncharacteristically serious during Weekend Update? Based on how sad he looks during this farewell to Cecily Strong, I'm betting it's because he knew she was saying goodbye. But Jost's delivery during Weekend Update felt especially stiff, and it was only shaken up when Heidi Gardner's bit as his Aunt Pat came out for a segment. Considering they once tried to be co-anchors at the Weekend Update desk, they must be quite close friends behind the scenes. It makes me wonder how much longer Jost will stick around since he's been at "SNL" for quite a long time now. Maybe we'll see both Jost and Michael Che leave at the end of season 48. 
That's all for "Saturday Night Live" this year. We'll be back sometime in January whenever NBC announces a return date for the series. For more on "SNL," be sure to check out The Ten to One Podcast.