When you think of the late Chris Farley, camera shy isn't what comes to mind. From his time on "Saturday Night Live" with characters like his Chippendales dancer who performed with Patrick Swayze, or motivational speaker Matt Foley who lives in a van down by the river, to his work in films like "Black Sheep" and "Tommy Boy," Farley had a wild energy and a grasp of physical comedy like no other.
Farley was a cast member on "SNL" from 1990 to 1995 and part of a group that was often referred to as the "Bad Boys of SNL" along with Chris Rock, Adam Sandler, Tim Meadows, Rob Schneider, and David Spade. He never failed to get laughs and seemed to be game for anything in front of a camera. Off-camera, though, Farley struggled with drugs and alcohol and tragically died from a drug overdose in 1997 at the age of 33. His comedy, even when it was in a brief cameo, will be remembered by fans forever. 
Farley's first film appearance was a short but memorable one in the 1992 film "Wayne's World" starring Mike Myers and Dana Carvey, based on their "SNL" skit about two guys who had a cable access show in Aurora, Illinois. Wayne Campbell (Myers) and Garth Algar (Carvey) filmed from Wayne's mom's basement and talked about ladies, cool stuff, and the rock and metal music they loved so much. The film was only the second one based on an "SNL" skit after 1980's "The Blues Brothers," and the first to get a sequel (in which Farley appeared as a different character named Milton). 
With the sort of performances Farley turned in, it's surprising to hear "Wayne's World" director Penelope Spheeris call Farley "camera shy," but she did in a February 2022 interview with the New York Post. 
One of the greats, even with only a few lines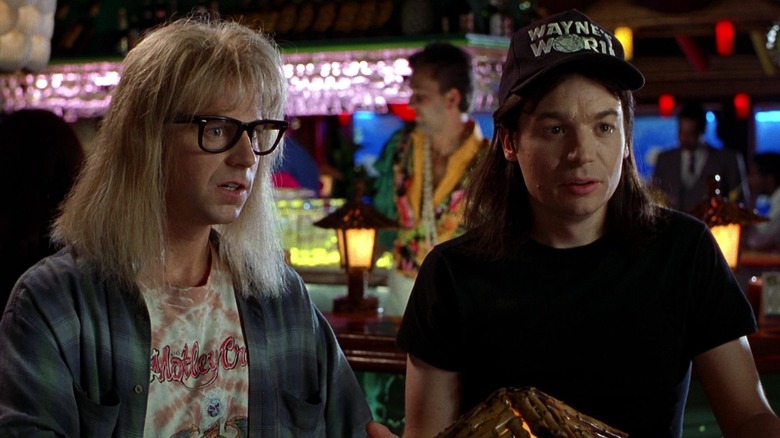 Paramount Pictures
In the film, Wayne and Garth are given all-access passes to an Alice Cooper concert to distract them from a dastardly plot to steal Wayne's new girlfriend, Cassandra (Tia Carrere). While inside, they get lost and end up in the back of the venue, in front of a giant limousine. The security guard they ask about it is Chris Farley, who tells them it's the limo of record executive Frank Sharp (played by real music industry manager and actor, the late Frank DiLeo who managed Michael Jackson for a while and played Tuddy Cicero in "Goodfellas"). 
Sharp is off looking for new talent, and Farley's guard has an unusual amount of information that he's very willing to share. He also uses his signature sharp gestures that overdo what's needed and is unfailingly funny. That's it. That's the scene, and yet no one who has watched the film forgets that Farley was in it. He was just such a presence, so what Penelope Spheeris had to say about what she was told when he was up for the role was a real surprise. It's especially true because it came from "SNL" creator and producer Lorne Michaels after Farley had been performing on the last night sketch show for some time by then. 
'You've got to be careful with him, because he's very camera shy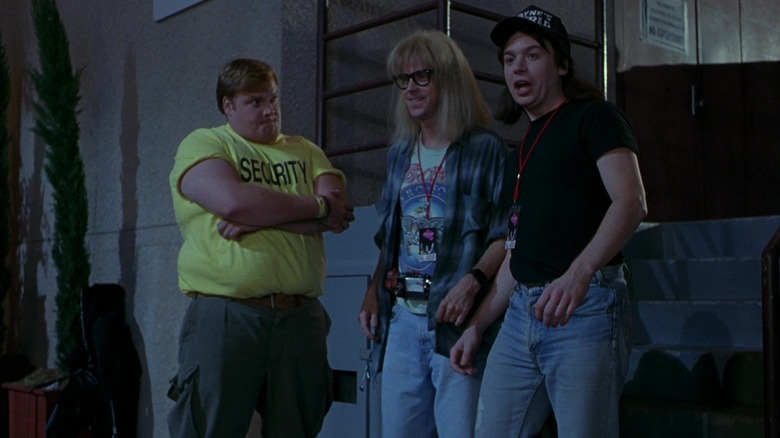 Paramount Pictures
Penelope Spheeris spoke about Chris Farley's casting and his movements in the scene, having said:
"I got a call from Lorne: 'Penelope, I've got this guy. He's really, really funny, but you've got to be careful with him because he's very camera shy.' I'm like, 'How can you send me an actor who's camera-shy?' But he was. And I think the reason he added that jittery body movement thing to his very small role was because he was just trying to get away from being so nervous. But after that, I did a whole movie at Paramount with him, 'Black Sheep.' He was a sweetheart. What a terrible loss."
Whatever the reason for the movements, it's very much something that was a comedy signature for Farley. Go watch that "SNL" Chippendales clip, and you can see it there as well. Nervous, camera shy or not, he had more energy and joy in performing than any five people put together. His loss still stings, even after all these years. Maybe give "Wayne's World" a rewatch in his honor. You won't regret it.