Eugene Levy has been known to play well-meaning, offbeat, and often flustered supporting characters throughout his career. Whether he's a featured player or part of the ensemble, the veteran Canadian actor has stolen scenes left and right with his impeccable timing, earnest delivery, and trademark eyebrows. But following his stint on the fan-favorite series "Schitt's Creek," it seems like the theme of this era for him is stepping out of his comfort zone, which is also a huge aspect of his new show, "The Reluctant Traveller."
As part of the Television Critics Association Winter press tour, Levy appeared on a panel attended by /Film's Vanessa Armstrong to promote the upcoming Apple TV+ travel show. The eight-episode series will take the award-winning actor around the world to experience once-in-a-lifetime adventures with new friends, gorgeous scenery, and mouth-watering food, despite the fact that he normally wouldn't do any of these things if left to his own devices.
However, as difficult as it will be for the "SCTV" alum to participate in this thrilling and out-of-the-box excursion, he explained that before this new show, playing Johnny Rose was actually one of the more challenging parts he's taken in his life. And a lot of that has to do with the "American Pie" staple's private life staying private.
A slice of life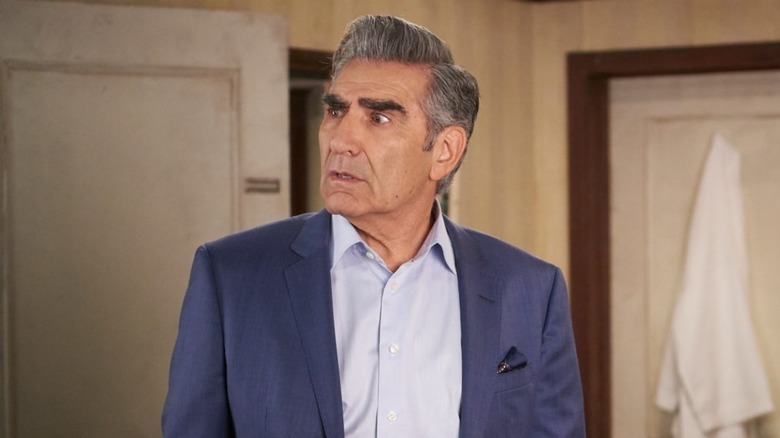 Lionsgate Television
With all of his sketch comedy and Christopher Guest experience, Eugene Levy is no stranger to playing off-the-wall characters. We've seen him go up and down the spectrum of silly in projects like "A Mighty Wind," "Serendipity," "Father of the Bride Part II," and "Josie and the Pussycats." But the real challenge for him came along when his son and collaborator Dan Levy approached him about playing a character that was closer to the patriarch's actual self. On the TCA panel, he shared how that made him feel:
"Even though I created the show with my son and that was reason enough to do it, the character of Johnny Rose in the show was a character as close to me [in real life] than anything I've done in my career. So that was a huge challenge, something that made me very nervous. It worked out, but that was a brick wall that I've never encountered in any of the work that I had done up to that point."
People love pizazz
Of course, playing the down-on-his-luck businessman forced to relocate to a small town that he bought as a bit has taken a backseat to his latest role as a travel show host. That's because "The Reluctant Traveller" takes Eugene Levy further out of his comfort zone than he's ever been and that's what makes it funny. While answering questions from the press, he elaborated:
"The comedy in this show really comes from who I am as a person. It's not about trying to make a funny travel show. It's a good travel show, but I'm just a person who initially shouldn't be fronting it. That's what this show is actually about. There is a lot of truth in the show. I have to say, in this show, I'm actually revealing much more of myself than I ever have in my life. I'm a very private person, [but] I've been opening up and revealing my inner thoughts on this show. That's something I've rarely done in my life."
If "Schitt's Creek" is any indication, it appears that Levy does some of his best work when he's pushed to his limits and encouraged to step outside of his comfort zone. So if he's getting more personal and open with the audience on Apple TV+, then that should be an easy sell for people to tune in.
"The Reluctant Traveller" premieres on AppleTV+ on February 24, 2023.