In our current IP-obsessed Hollywood blockbuster landscape, it's hard to not feel like movies are becoming really expensive commercials to get us to buy things. But at the same time, the American economy is such garbage that I've accepted the fact I'll never be able to afford a mortgage, but I can afford to splurge a little bit on a collector's edition Weird Barbie from Greta Gerwig's "Barbie" movie.
My house is decorated with assorted film and TV posters and toys already, so it isn't as if buying "Barbie" merch is a new thing, and had the film not earned a 9 out of 10 in my review, I certainly wouldn't be investing in limited edition dolls. Before "Barbie" hit theaters, Mattel sold a handful of Ken dolls, including one in his custom Calvin Klein-inspired denim and visible underwear band, and later wisely started selling "I am Kenough" hoodies to match the one Ryan Gosling wears in the film after fans started begging for it.
Slowly but surely, Mattel has been releasing new dolls, clothing designs, and other products to meet fandom demand, but they've been struggling to keep up. As part of the Mattel Creations collection, a Ken doll wearing his fringe vest, fur coat, and statement fanny pack was announced at $75 a pop and sold out almost immediately. Did I cry about missing my chance to have a patriarchy-pilled Ken of my very own? Maaaaaaybe,
Fortunately, there is some good news for the folks like me who were already hoping Santa Claus would answer the requests of grown adults later this year, as the second run of the luxury Ken doll collectible is now available through Mattel's partnership with Amazon.
Sublime!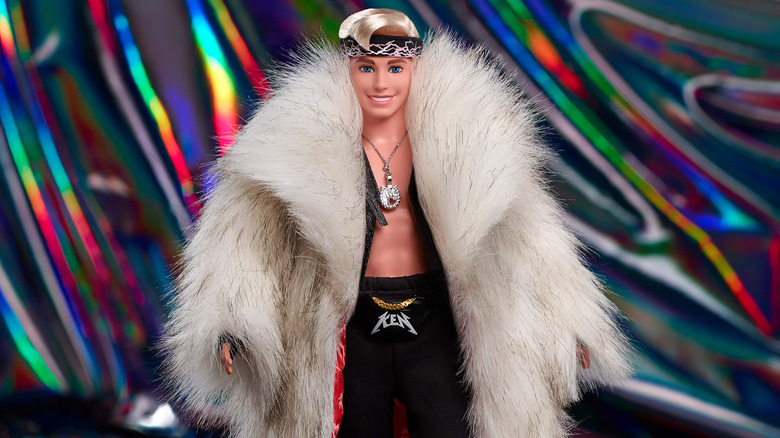 Mattel
While Ken certainly has some fantastic outfits throughout "Barbie," it's his new look after discovering the peak of manhood, Sylvester Stallone in a fur coat, where he truly looks his best. And now, this slab of All-American plastic beefcake can be yours. Mattel describes this look as Ken's "Rebel Rocker" look, featuring a "dramatic faux fur coat over a black fringe vest and joggers." Here's everything that comes with the doll:
High-octane outfit recreates one of Ken's most memorable film looks.
Black moto fringe vest is paired with matching fingerless gloves.
Matching "KEN" belt bag is accented by a golden-toned chain.
Super-shaggy and super-swaggy faux fur coat features vibrant red lining.
Lightning bolt bandana and pants make his look crackle with electric energy.
High-top sneakers and silver-toned horse pendant complete the look.
The posable doll comes in collectible "Barbie: The Movie" packaging and includes a doll stand as he cannot stand on his own. It's actually "Ken" packaging with Barbie's name crossed out in Sharpie because this is peak Kendom Ken we're talking about here. I am still awaiting a Ken's Mojo Dojo Casa House, which I'm hoping is just a Barbie Dreamhouse with an optional Ken accessory kit for a Dreamhouse takeover because I really don't want to have to confess to my accountant how much I've spent on Barbies this year.
Get your very own luxury Ken by clicking here.