Elvis has returned to the building! Baz Luhrmann's dizzying portrait of the superstar actor and musician just nabbed eight Oscar nominations, and "Elvis" is celebrating with a return to theaters. The Austin Butler-led film was a surprise box office success the first time around, and now the flick is headed back to the big screen beginning this Friday, January 27, 2023.
It's typical for Best Picture nominees to make their way back to theaters ahead of the Academy Awards telecast, but in an especially cinematic year, "Elvis" in particular is a movie that deserves to be caught in theaters. The overstuffed, campy, colorful 2-hour and 39-minute film stars Butler (who also earned an Oscar nomination today) alongside Tom Hanks in one of the latter's oddest performances ever. Hanks plays Colonel Tom Parker, the singer's manipulative manager who witnesses the rise and fall (and rise and fall again) of the famed rock star.
In addition to its Best Picture and Best Actor nods, "Elvis" also scored nominations today for cinematography, sound, production design, editing, costume design, and makeup and hairstyling. Warner Bros. Pictures President of Domestic Distribution, Jeff Goldstein, congratulated the cast and crew on their "much-deserved" nominations in a statement about the film's return to theaters. "Since its release in June, it has remained clear that Baz Luhrmann's 'Elvis' has real staying power with audiences of all ages, much like Elvis Presley's own enduring popularity," Goldstein said.
The King returns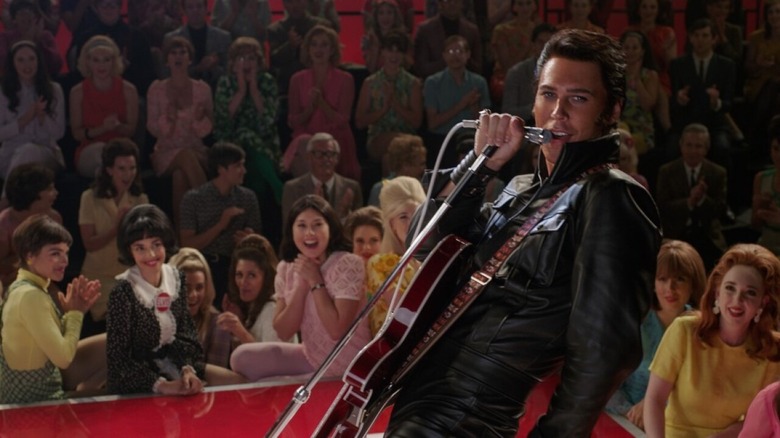 Warner Bros.
The "Elvis" reprisal is a limited engagement, so if you do want to catch The King on the big screen and sing along to "Suspicious Minds" (or cry your way through "Unchained Melody"), make sure to act fast. That being said, theaters would be smart to hold the film over if its box office receipts from the first go-round are any indication. Last year the movie made $287 million at the global box office, becoming the second highest-grossing musical biopic of all time after "Bohemian Rhapsody." The film also earned the distinct honor of becoming the highest-grossing film of 2022 that was not a part of an existing franchise.
While it's probably safe to say "Elvis" isn't one of the obvious front-runners for Best Picture, Butler's turn as The King is certainly gaining plenty of traction this award season. The actor has already picked up a Golden Globe and an award from the Australian Academy of Cinema and Television Arts, not to mention a significant number of trophies from critics circles across the U.S. If you missed "Elvis" the first time around and want to finally feel the Elvis-mania, tickets for the film are on sale now. The film is also available on HBO Max.