"Films should be voyeuristic," Mike Leigh once opined. "What else is a film if you're not snooping into somebody else's lives?" Past Lives' opening gambit makes the audience party to some unbridled people-watching unfolding in a New York bar. These unseen eavesdroppers are fascinated by the three's-company dynamic of a trio of drinkers: an Asian woman, an Asian man, and a white guy. From across the room they try to unpick the structure of the group. Who knows who? Who, if anyone, is the third wheel? Of all the bars in all the towns in all the world, how did they end up walking into this one?
The scene doesn't outstay its welcome. A title card soon whisks us back to 24 hours earlier. We'll head back much further still given the narrative structure that encompasses three distinct periods in the protagonists' lives. While the bulk of the film is set in the present day, those past time strands layer up immense wells of feelings that threaten to fully overflow when we return to that bar scene, and the complicated, likeable trio of individuals that we've come to know.
The feature debut of writer/director Celine Song, Past Lives concerns the decades-spanning, never-quite-materialised romance between childhood sweethearts Na Young (played as a kid by Seung Ah Moon) and Hae Sung (Seung Min Yim). These young pals have a sweet connection that's touchingly etched in this brief early portion of the film. Their relationship comes to an abrupt end when Na Young's parents leave Seoul for Toronto.
Twelve years later, Na Young – who has adopted the name Nora, and is now played by Greta Lee – is carving out a fledgling career as a playwright. Skype and social media allow her to briefly rekindle a connection with Hae Sung (Teo Yoo), but their circumstances get in the way, and ultimately the plans they make to visit each other go unfulfilled.
Another dozen years pass, and Hae Sung plans a trip to New York, where Nora now lives. Only now, she's shacked up with fellow writer Arthur (John Magaro). Reconnecting as adults, after 24 years and oceans apart, they – and us – wonder about what might have been, what traces remain of those childhood sweethearts, and where Arthur fits into the picture.
Song – a South Korean-Canadian playwright and TV writer – mined her own experiences for Past Lives. She even lived through her own version of the aforementioned bar scene. Perhaps that's why this film chimes so truthfully, and is so generous with the players in its three-hander. Perhaps Song's theatre experience informed the approach too, with the characters, dialogue, and three acts of these lives having the clean shape of a play, but without any distancing staginess. This is far too intimate a movie to feel like a play. So much depends on the micro-gestures: furtive glances, bathroom exchanges over toothbrushing, two hands almost touching on a handrail, all practically crackling with electricity.
Despite its intimate focus, it's a film that feels large, too. Song nimbly captures both settings, and brief scenes of Hae Sung hanging with friends at home feel sharply observed. Some of the strongest moments find Nora and Hae Sung strolling across New York (comparisons to Linklater's Before trilogy are unavoidable). Hae Sung's feeling out of place emphasises how far their paths have diverged (an idea framed in a resonant image), even if their gravitational connection is still palpable.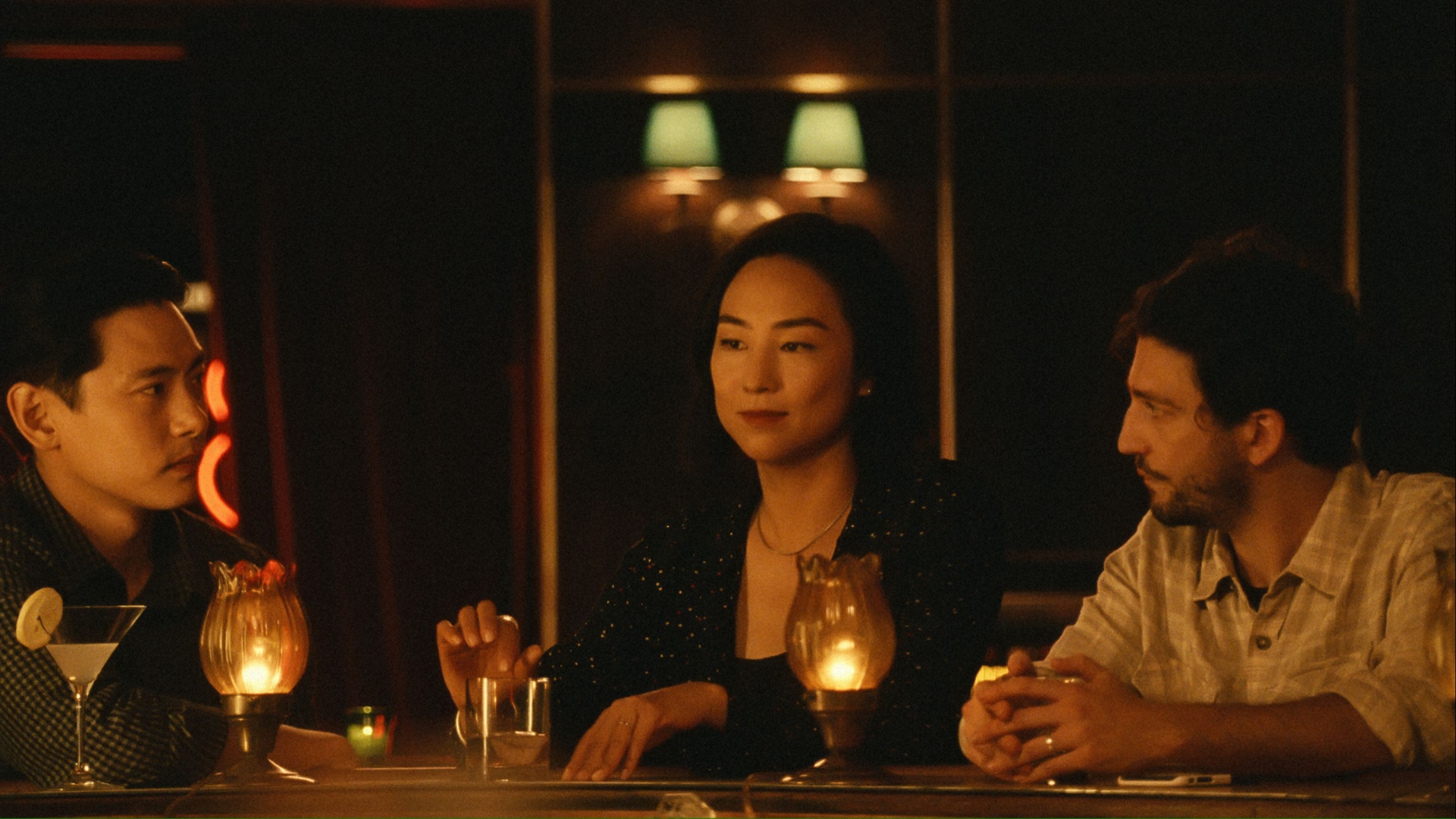 Teo Yoo is superb, barely containing decades of feeling beneath a stoic facade. Lee is also low-key fantastic, the story's always sympathetic epicentre (the immigrant experience is touched on with the film's characteristic lightness). Song's generosity extends to Arthur, too. Where he could easily just be a human hurdle, he has unexpected dimensionality. He doesn't want to stifle his partner, but it's an upstream struggle not to be perturbed by the arrival of a handsome stranger from Nora's past, with the language barrier making their shared history even more impenetrable.
The title refers to the Korean concept of In-Yun: lovers having met over and over in their previous incarnations, carrying the residue from those connections through to the present (and future). Even that's handled lightly: when Nora first explains it to Arthur at a writer's retreat, she describes it not as something that she believes in, but a seduction technique that Koreans deploy.
Still, it doesn't detract from the overwhelming sense of destiny, and the cumulative power of a shared past. As the film glides towards its climax, Song dismantles your heart with the cool proficiency of a bomb-disposal expert. It ends, fittingly, on another note of voyeuristic distance. Only this time you feel you know these people all too well. And the feelings are overwhelming.
---
Past Lives in UK cinemas from September 8 and is US cinemas now.