Jamie Mccarthy/Getty Images
Richard Belzer, the stand-up comedian, prolific performer, and the man who brought us police detective John Munch, has died at the age of 78. The news originally broke via "Saturday Night Live" original cast alum Laraine Newman, who knew him from his time as the warm-up comedian for the series, tweeted her sadness at his passing. The news was confirmed by The Hollywood Reporter, which was told by a longtime friend (who did not wish to be identified) that Belzer died at his home in Bozouls, France. "He had a lot of health issues," said THR's source. "And his last words were, 'F*** you, motherf***er.'"
Belzer started out in comedy, doing stand-up and joining the cast of National Lampoon's Radio Hour with co-stars Gilda Radner, John Belushi, Chevy Chase, Bill Murray, and Harold Ramis. He was a part of the 1970s comedy pantheon and roasted the every-loving heck out of Chevy Chase at his Friar's Club Roast back in 2002, cementing him as comedy legend. 
Conquering comedy wasn't enough for the performer, however, and he began working in dramatic television, starring as John Munch on "Homicide: Life on the Street." Munch, a cynical Jewish detective with a fascination for conspiracy theories, became such a beloved character that Belzer ended up playing him on 11 different series, including long runs on "Homicide: Life in the Street" and "Law & Order: Special Victims Unit" and cameos on everything from "Arrested Development" to "The X-Files." Like Munch, Belzer was interested in conspiracy theories and wrote a number of books on the subject, including "Dead Wrong: Straight Facts on the Country's Most Controversial Cover-Ups" and "Hit List: An In-Depth Investigation into the Mysterious Deaths of Witnesses to the JFK Assassination." 
Whether he was cracking jokes, catching the bad guys on TV, or digging deep into conspiracies, Belzer always gave his work his everything. His unique sense of humor and insight will be deeply missed. 
Friends and colleagues pay tribute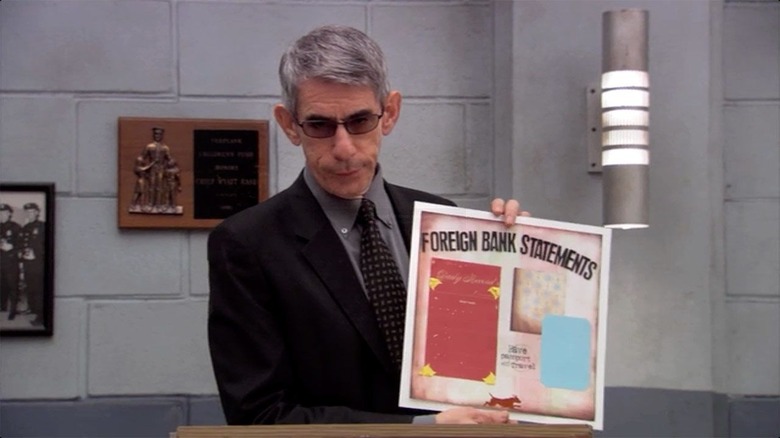 Fox
Friends and former colleagues of Belzer took to Twitter to share their feelings about his passing. "Law and Order: SVU" showrunner Warren Leight shared a story about how kind Belzer was to him when he first joined the franchise:
Richard Belzer was the first actor to welcome me when I started at SVU. Open, warm, acerbic, whip smart, surprisingly kind. I loved writing for Munch, and I loved being with Belz. We sensed this would be his parting scene. Godspeed Belz…
https://t.co/PhVvZMMcj0 via @YouTube

— Warren Leight (@warrenleightTV) February 19, 2023
Comedian Marc Maron eulogized him as "one of the greats," while his former "SVU" co-star Julie Martin said that she's sure he's "giving 'em all a lot of laughs upstairs." Stories continue to pour in about his warmth, kindness, and sense of humor, and even roast master and insult comedian Jeffrey Ross had something nice to say, pointing out that he was "always the coolest cat in the room."
Belzer seemed to truly have a larger-than-life persona, and while he occasionally got himself in trouble by pushing the boundaries of protest and comedy (like when he did a Nazi salute on a talk show to show his opposition to the network's conservative policies), he was clearly a passionate man who lived with purpose. May his memory be a blessing.